I love being a mom.
It is not what I expected at all. Most things aren't though.

It's so much BETTER than what I expected!
These two are best buds and look-alikes too :). We celebrate when Daddy comes home each evening!
In case you can't tell so far by these pictures Anna Ruth is into all things slobbery. She loves to have a hand or fingers in her mouth, or the top of her onesie. She's smacking on everything!
Sometimes when she's really tired she'll lay limp on my shoulder like this, all cuddly. She is almost three months old so I'm realizing the cuddly moments might not happen quite as often when she gets older. I am taking full advantage of them now!
A big blessing I enjoy about being a stay-at-home-mom is being able to go outside. Whenever I want. I could at school too, but it's not quite the same with a class full of 28 sweet, but active kids.
Today we chilled out on the back deck for quite a while. Makes a girl sleepy!
What you looking at? :)
Grilled (in the oven) Flatbread Pizzas for dinner!
These were yuuummmyyy....maybe not the healthiest, but made from non-processed ingredients. Found on
www.ourbestbites.com
, best cooking site EVER. The bread is "Naan", which can be found in your Walmart Bakery section.
Here's our weekly menu, a bit late. The Asian Lettuce Wraps are also from Our Best Bites.
Remember how I mentioned we had tried a new kind of bun on our burgers last week? Well, you're looking at it! These are called "Grillin' Thins" and are very good. Great for sandwiches or toast too!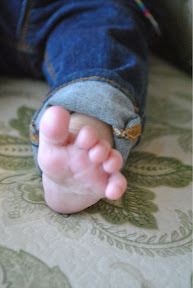 Being skinny isn't everything, unless of course you're an almost 3 month old wearing her first pair of skinny jeans. :)
And then it's just about the cutest thing out of everything you ever saw!
Anna had to get all dressed up for a mall date with daddy and nana, while I got to shop with Jana and momma for our birthdays. SO much fun! Thanks again Momma :).